June 20, 2011 - OOTP Developments have confirmed the latest release of Out of the Park Baseball Version 12 for their customer pre-orders.
This has been confirmed by Brad Cook, head of PR for OOTP Dev on their Twitter.
@ootpbaseball OOTP Baseball - Emails with download links have gone out to pre-order customers! Everyone else will be able to buy in two days. Thanks! #OOTP 12. #mlb
And by designer Markus Heinsohn on the Out of the Park Development 12 Forum.
GM Games will be reviewing OOTP12 inside and out but here is a sample preview that has been created by OOTP Developments and any opinionative commentary belew does not represent GMGames.org.
Lineup Improvements in OOTP 12
PC Gamer called OOTP 11 "a no-doubt, walk-off home run no-brainer to become a part of your game collection," and OOTP 12 is no different. Our All-Star lineup of features gets better every year, and we've again improved many of them during this off-season.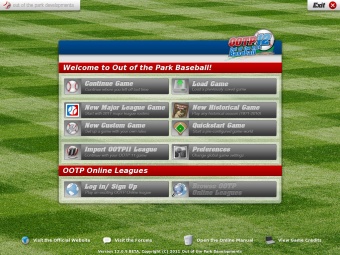 2011 Major League Rosters
Here's a treat: the best roster set we've ever included, from the big leagues' top stars to the guys making their debuts in rookie leagues. Our roster sets only exist thanks to the hard work of our rosters editing team, so we'd like to take a moment and tip our caps to them. Thanks, guys.
All players are individually rated with updated statistics and realistic contract data. Last year's top draft picks are included too. Could Bryce Harper and Stephen Strasburg, with the veteran leadership of newly-acquired All-Star Jayson Werth, help propel the Washington Nationals to the top of the National League East in coming seasons?
Revamped Financial System
The Philadelphia Phillies shook the baseball world this winter when they signed top-flight free agent pitcher Cliff Lee, despite expectations that he would opt for the highest bidder. Now you can do the same with OOTP's recoded player contract negotiations, which are more realistic and fun. You can even try to talk your owner into expanding the available budget, letting you squeeze in another All-Star contract. Don't forget to stay on top of the latest free agent signings and other news in the new off-season center, and keep your finger on the pulse of your team's finances with an improved view.
*The new (optional) player development budget is another wise way to spend your hard-earned cash.
Contract possibilities are now more realistic, including vesting options, buyouts, minor league split contracts, signing bonuses and more performance bonus options.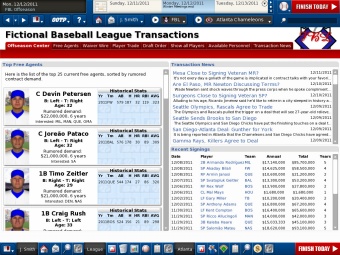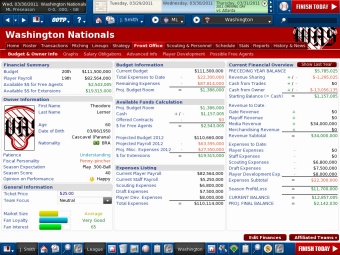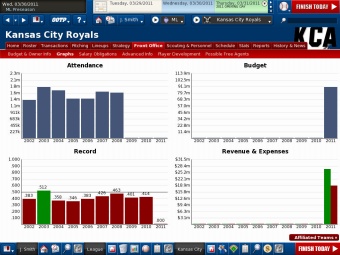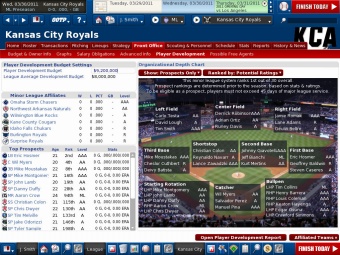 * Recoded International Scouting
We have completely recoded the international scouting in OOTP 12. Instead of just setting a budget, you can now send your scouts to the countries you select! But spend your money wisely: high-profile baseball countries are much more expensive to scout than obscure ones. Will you discover the next living legend?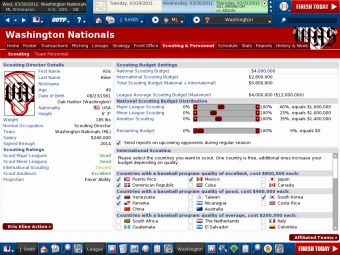 Online Leagues
We're proud to support Official OOTP Online Leagues with a full-featured interface inside OOTP 12. With just one click, you can join a team, and creating a league is just as easy. Commissioners can make their leagues public and advertise open teams, with the ability to accept or deny requests from would-be GMs.
Online leagues offer several key advantages:
League files are patches rather than full-size files, saving plenty of up- and download time.
Reports can be saved in MySQL databases, increasing their upload speed.
Forget about FTP: team data exports and imports work through the database. That results in improved compatibility and security for the league web site server.
An export tracker.
The promise of more great features to come, including online drafts and trades.
Greater Immersion and Realism
Historical leagues benefit from improved AI and real life transactions and as-played lineups as optional features. Thanks to OOTP's sophisticated game engine, you'll be able to enjoy the most realistic historical simulation results possible.
In addition, storylines have been expanded and news presentations have also been revamped, making you feel like you're part of the hectic 24-hour "better stay on top of this" news cycle that dominates today's sports reporting.
In-Game and Core Engine Changes
Like a manager constantly seeking ways to get the most out of his lineup, we're always tinkering under OOTP's hood. Here's what you can look forward to this year:
Recoded parts of the in-game AI, making it the most challenging ever in an OOTP game.
Improved in-game sound, adding better quality sound files and more variation.
Improved player evaluation AI, resulting in more realistic AI roster moves.
Recoded parts of the trading AI.
Recoded parts of the main scouting engine.
Improved injury and recovery system.
* Added complete history for all coaches.
* Added the ability to save a game in progress and resume it later.
* Added optional confirmation questions after substitutions in-game, preventing mistakes.
* Added the ability to lock a player to a certain minor league level when the AI is in control of your minor league system.
* Added a new player development screen, including an organizational depth chart presentation.
* Added the option to have established international free agents enter the market during the offseason.
Added WAR (Wins Above Replacement) as a statistic.
Added a playoff roster for more realistic team transactions.
Greatly enhanced the world database structure, resulting in more realistic fictional league and player creation.
Added a simulation module, allowing you to match up two teams from the same league for a set number of games and see the simulation results. This is great for research purposes or just for toying around. For example, how would the 1927 Yankees fare against the 2004 Red Sox?